FRIDAY 8 NOV 19:00-21:30
CONCERT 2: ORGAN, PIANO & ELECTROACOUSTIC MUSIC
NATHAN MILSTEINSALEN
& LILLA SALEN


Sten Sandell, Henrik Frisk, David Granström, Kim Hedås, Johannes Landgren
Sten Sandell:
borduna solenoid - akustisk levitation
(2019) 24' 10"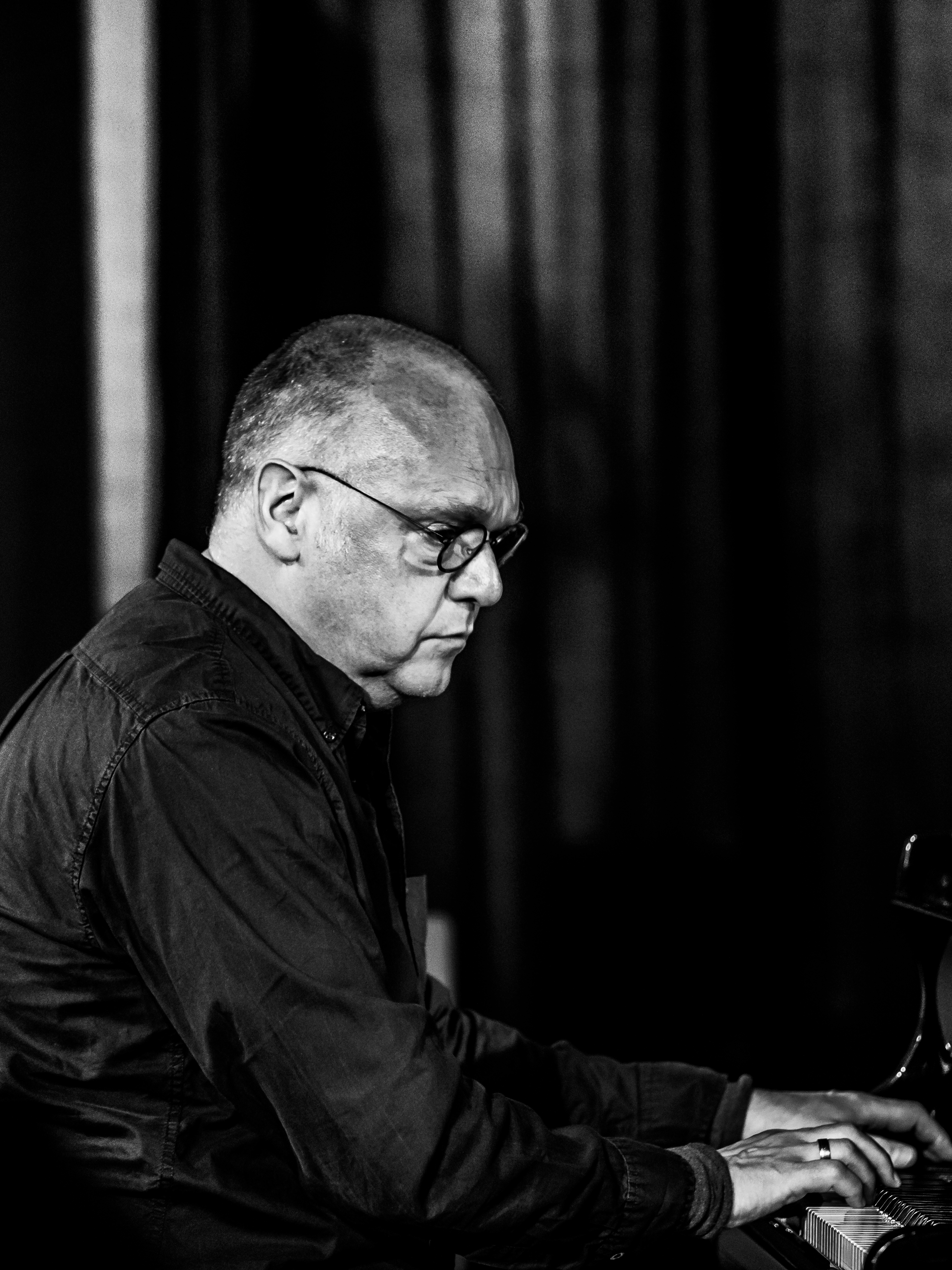 "Den andra berättelsen handlade om en straffånge som sedan många år försmäktade i sin cell. Den arme mannen var dömd till livstids fängelse och bevakades så strängt att han var säker på att han skulle få sluta sina dagar i fångenskap. Men en natt får han höra svaga knackningar i ena cellväggen. Han lägger örat mot väggen och urskiljer klart och tydligt avsiktliga knackningar i utförliga serier som upprepas med bestämda intervaller. Häpen som han blir tror han att det är en hallucination av det slag som åtföljer hans eländiga isolering. Men vid samma klockslag dagen därpå och varje dag därefter får han återigen höra knackningarna. Han lär sig dem utantill och börjar kreta ner det han hör på väggen bakom sängen. Då och då blir variationerna mer komplicerade, som om nya "ord" förs in i koden av grannen på andra sidan väggen. Först efter flera månader finner han de första sambanden i knackningarnas hemliga väv, och först åratal senare har han lärt sig språket. Så börjar en dialog växa fram där fången svarar med samma kod (som han har uppfunnit tecken för, halvmånar, kugghjul, kors och trianglar som han ristat in i väggen). Grannen förstår honom och lägger fram en flyktplan, hisnande djärv och otroligt enkel. Så en natt efter alla nödvändiga förberedelser följer fången strikt alla instruktioner och kan rymma. Ett antal år senare, när han friserat sin levnadshistoria och blivit rik och berömd, begär han tillstånd att besöka fängelset för att äntligen få lära känna honom som han är skyldig allt och som han i sin tur vill försöka rädda. Han förs till cellen där han förspillt sin ungdom och frågar fångvaktaren efter fången på andra sidan väggen. Till sin bestörtning får han då veta att där inte finns någonting mer än himlen och havet. Väggen är en yttervägg tio meter ovanför vågorna som bryts mot strandens klippor…"
Utdrag från Mircea Cartarescu:
Solenoid
Music / Sound / Text / Image / Real-Time Composer
Piano/Voice/Clavichord/Organ/Electronics
Freelancer
and
Cooperation
with
Musicians/Composers
including among others: Lotte Anker, Chris Cutler, Sverrir Gudjonsson, Nina de Heney, Sofia Jernberg, Sven-Åke Johansson, Paal Nilssen-Love, Evan Parker, Mats Persson, Jörgen Pettersson, Anna Svensdotter, Kristine Scholz, Carl-Axel Dominique, Mats Gustafsson, Emil Strandberg and Raymond Strid.
Music Inside the Language
(3 CD-box, part of PhD) was winner of Contemporary Sound in 2011 of the Journal Contemporary Music.
Music and visual arts
, including Inger Arvidsson, Katarina Eismann, Bo Samuelsson.
Music and dance
, including Bo Arenander, Ingrid Olterman, Jukka Korpi, Helena Franzén.
Music and Drama
including Karl Dunér, Stina Ekblad, Magnus Florin, Jörgen Gassilewski, Magnus Jacobsson, Willy Kyrklund, Fredrik Nyberg, Peter Oskarson, Rolf Skoglund and Lars Wassrin.
Concerts, Performances and Seminars
in Europe, North America, Australia, Singapore, Malaysia, Russia, Japan and South Korea 1976-2019. Doctor of Philosophy In Fine Arts in Musical Performance and Interpretation, University of Gothenburg, 2013.
stensandell.com
Henrik Frisk:
Locomotion
(2019) 19'
Locomotion is simultaneously an installation and a composition. It is a work in motion and is in continuous development. The main idea is to explore the tension between sound environments that have a clear connection to a place, and those that do not. This is related to the field of tension between virtual sounds – e.g. sounds that do not have an immediate relation to its source, such as some electronic sounds – and sounds the source of which is impossible to neglect. There are many aspects to why this may be interesting but at the core of this piece lies the search for the musical potential in each and every sound. Ultimately the listener should be able to approach the full sound, that is, the sound and its origin,
and
the musicality of the sound, and move back and forth between them. The hope is that this may challenge the perception of the spatial properties of the sounds as well as allow for transformations between the sound's and the listener's respective, and common, space.
This version of Locomotion is an installation insofar as the audience may move freely between the two halls, Lilla Salen and Nathan Milstein, and the space between them. The music is different in the different spaces, hence, the listener can make their own version by moving through the spaces.
The sounds are field recordings from the environments around the Royal College of Music, and also from inside the building. Apart from these recordings there are also synthetic sounds made from a physical model of a clarinet. The synthetic clarinet part departs from the sound fields but is also composed with purely musical ambitions. A next version of Locomotion could include a live clarinet part played along with the artificial, but also independently of it.
Henrik Frisk is an active performer (saxophones and electronics) of improvised and contemporary music and a composer of acoustic and electroacoustic music. He is professor at the Royal College of Music in Stockholm at the department for electroacoustic music composition, and his research is concerned with improvisation, interactivity, spatialisation and experimental electroacoustic music. Among other research projects he is currently involved with Musical Transformations, a project exploring musical traditions and change. He has contributed to the
Routledge companion to research in the arts
and is the co-editor and contributor of
Acts of Creation
, an anthology on artistic research supervision.
Henrik has performed in many countries in Europe, North America and Asia including performances at festivals such as the Bell Atlantic Jazz Festival, NYC. As a composer he has received commissions from institutions, ensembles and musicians mainly in Scandinavia. He has made numerous recordings for American, Canadian, Swedish and Danish record labels and is currently a member of the collective Kopasetic Productions.
David Granström:
Obsidian
(2019) 9'24"
Magnetite II
(2019) 4'33"
Empty room
(2019) 10'11"
These three interrelated pieces were composed 2019 during a residency at TNEC located at Ställbergs gruva (a defunct iron ore mine). The music revolves around a justly tuned chord including the 19:th natural harmonic, and features nightly field-recordings from inside the abandoned mine as well as re-amping of synthetic musical materials. The music has since been reworked into an Ambisonic version spefically made for Klangkupolen.
David Granström (b. 1987) is a composer and sound artist based in Stockholm, Sweden. His sound work is characterized by harmonic simplicity and spatiotextural complexity, employing sounds of both synthetic and acoustic origin. In 2014, he received a Master's degree in Composition of Electronic Music from the Royal College of Music in Stockholm and has, since then, worked as a teacher of composition, sound synthesis and advanced spatialization, in part at the Electronic Music Studio (EMS) in Stockholm. Part of Granström's practice consists in researching new methods for working algorithmically with real-time sound synthesis and precision-tuned harmony, a work which is technically realized by employing tools that he himself develops in the SuperCollider programming environment.
Kim Hedås:
Lineages
(2019) 20'
For organ and electronics in sixteen channels, spatialised into sixty loudspeakers.
Lineages
is another word for origins. The title for this work has been chosen because the music here is pointing backwards to the extensive history for both organ music and electroacoustic music. Although following very different paths through history, these two have some similarities, not least in various experiments which explore and expand both space and time. By listening backwards, some lineages can be transferred from the past to my work, sometimes clear and recognizable, sometimes distorted and fragmented. Microscopic units of rhythms shape both polyphonic lines and alloys of sounds, and dynamically bind together what was previously unrelated. Other lineages emerge and are now woven together in the structure of sounding material.


Lineages
is a new work in a collaborative project between organist Johannes Landgren and composer Kim Hedås, and is aimed at fusing multiple sounds of organ and electronics. The project comprises several studies, laboratory work and historical excursions. Four main areas are to be explored further: alloying of sounds, alternative tuning, expanded polyphony and spatialisation.
Lineages
is a first result of these experiments with organ and electroacoustic music.
Kim Hedås is a composer, PhD, senior lecturer and researcher at the Royal College of Music in Stockholm (Kungliga Musikhögskolan, Stockholm). Her music has been performed by, among others, the Swedish Radio Symphony Orchestra, the Gothenburg Symphony Orchestra, the Symphony Orchestra of NorrlandsOperan, Gageego!, pëarls before swine experience, Kroumata, VOX, DalaSinfoniettan, and the Gothenburg Opera. She also works with electroacoustic music and collaborates often with other artists in theater, art and architecture. In recent years, her music has been performed internationally and also at Konserthuset in Stockholm, Göteborgs Konserthus, Moderna museet, Kulturhuset, Färgfabriken, the Architecture Biennale in Venice, Kivik Art Centre, Teater Galeasen and the Royal Dramatic Theatre in Stockholm. In 2013, Kim Hedås completed her PhD at the Faculty of Fine Arts, University of Gothenburg with the dissertation
Linjer. Musikens rörelser – komposition i förändring (Lines: Music moving – composition changing).
k
imhedas.se
Johannes Landgren: organ
Landgren studied at the Academy of Music and Drama, where he achieved Church music exam in 1985, Soloist diploma 1987 and choir pedagogy exam in 1990. In the year of 1997 he defended his PhD thesis on the Czech composer Petr Eben ("Music - Moment - Message. Interpretive, Improvisational, and Ideological aspects of Petr Eben's Organ Works").
As organist and choir conductor he has toured in most countries in Europe as well as in Russia and USA (with international recognition through competitions and festivals). He has made numerous recordings for radio and has presented more than 30 CD-recordings with a great variety of genres represented (from the renaissance, baroque, jazz, contemporary music etc). Johannes served as Professor of organ and improvisation at the Academy of Music and Drama in Gothenburg as well as Pro Dean for the Faculty of Fine, Applied and Performing arts.
At present Johannes, besides being a freelance musician, works as a guest professor at the Royal Academy of Music in Stockholm, where he recently also was appointed as Pro Vice chancellor.