Vertical Acousmonium


KMH's entrance foyer is four stories high and features three balconies which extend nearly the entire length of the building.

The Vertical Acousmonium is comprised of twenty-four loudspeakers with eight speakers distributed on each level plus at least two sub-woofers.

Works for the Vertical Acousmonium are played continuously throughout the day.
Ludger Brümmer:
Gesualdo
(adapted for Vertical Acousmonium) (2004) 19"42'
Carlo Gesualdo's "
Canzon francese
" (MS Add. 30491) serves as the starting point for a dramaturgy of virtual sounds in the work for tape "Gesualdo", in which the processing processes carried out with the computer lay themselves over the object itself like a patina, destroying it and reassembling it. The work is comparable to the work of a painter who, starting from a photographic sketch, begins his process of abstraction by reinterpreting and deforming elements of the object and continues to paint over the original object. It is unpredictable what kind of power the work develops over time. The tonal elements at the beginning form rhythmic modules that lead to repetitive phrases. The form of the work leads to a climax after a long prelude. It is a hypnotic process that creates an aura, as does Gesualdo's composition.
Ludger Brümmer
Ludger Brümmer: Carlo (adapted for Vertical Acousmonium) (2004) 22"00'

The work "Carlo" is based on the examination of the madrigals of Carlo Gesualdo and represents the attempt to combine two completely different principles of composing music: on the one hand, the sound movement contained in the madrigal with a tonal or chromatic-harmonic form related to the vocal abilities and, on the other hand, contemporary structural ideas which are shaped by the technique of serial music and mathematical concepts of order. The latter arise from the attempt to discover new principles of form and to generate a contemporary structural movement with high complexity but easy accessibility.
The idea of using a Renaissance madrigal as a substantial moment for a contemporary composition seems to be the result of a postmodern thought. However, a distinction must be made between a postmodern citation technique and the heterogeneous integration of foreign material into a new context. In the composition "Carlo", this combination of heterogeneous elements is intensified into a question of existence: the new is constructed from the old. The old building becomes a quarry, or it is changed, extended, torn down and destroyed, as has always happened in architecture. But this work is also about attempting to answer the painful question of why this new should emerge at all.

Produced by ZKM | Institute for Music and Acoustics and Musicological Institute of the University of Cologne


Gianluca Verlingieri: Fontana reMix (2006-2009)
for multichannel tape

Premiered at Mexico City's Musica y Escena Festival in 2006, Verlingieri's Fontana reMix multichannel tape has been revised in 2008-9 for a for Wave Field Synthesis projection on 189 loudspeakers at the Casa del Suono in Parma, celebrating the 50th anniversary of Cage's original Fontana Mix tape. Verlingieri's work has then been performed worldwide in several speakers configurations, both as tape alone or simultaneously with a live performance of Cage's Aria by the American bass-baritone Nicholas Isherwood, also issued on CD by the Swedish label BIS-Records.

The idea of reMix is not related to any elaboration of Cage's original tapes, but rather lies in the attempt to metaphorically "mix-up" two aspects: first, a composition process fully adherent to the set of tools and rules provided by Cage himself with the 1960 Peters score, and, second, the effort to go beyond the first process, giving back to the composer some decision-making responsibilities, mainly in terms of macro-form structure and kind and density of events, but also with regard to the categories of the sonic materials or the techniques to process them. The resultant kaleidoscope is, once again, a (re)mix between the acoustic properties of sound objects and their cultural meanings in the present society. This version has been appositely conceived for the 24.2 loudspeaker setup of the KMH Vertical Acousmonium at the Between2019 EASTN-DC Festival.

Marco Barberis: Q-Verch (2015) 5' 30"

Marco Barberis' fixed media piece Q-verchbring the listeners in an imaginary soundscape in which both sonic gestures and their perception play on the ambiguous border between natural sounds (e.g. water drops in a cave) and cultural sounds (e.g. ordinary and stringboard piano sounds), and their hybridations.
Music Table


Room 1D220

The Music Table consists of a variation of 1-15 desktop applications that disseminate several aspects of algorithmic electronic composition. For instance, there are programs like the Lindenmayer Explorer or the Pattern Machine that generate sounds and rhythms by applying a Lindenmayer algorithm respectively different kinds of patterns to sound notes. There are works like MusiCode with which users can create their own sound structures by playing with code fragments, or there are works like Rotating Scores or Rhythm of Shapes that disseminate contemporary methods of graphic notation in an interactive way.
It is a learning tool for users of all kinds of ages and education background.
Works by, a.o.: Ludger Brümmer, Dan Wilcox, Chikashi Miyama, Götz Dipper.

Dan Wilcox (*1981, Orange, United States) is an artist, engineer, musician, performer who combines live musical performance techniques with experimental electronics and software for the exploration of new expression, often through themes of science fiction, space travel, cyborgification, and far futurism. He currently lives in Karlsruhe, Germany and is an artist, researcher and software developer for the ZKM | Hertz-Lab.



Ludger Brümmer
(*1958, Werne, Germany) is a composer, professor of composition, and head of the research institute ZKM | Hertz-Lab since 2017. Since 2003, as head of the former ZKM | Institute for Music and Acoustics, he initiated the Sound Dome Project and important festivals on electronic music. The central focus of his music is the use of the computer both as an artistic means of composition and for electronic sound production. Brümmer has also realized a series of multimedia and interdisciplinary projects, experimental music pieces, compositions for dance and live electronics, and is interested in the interaction between acoustic instruments and live video.
Ljudbänken


Located in the outdoor courtyard of KMH.

Kim Hedås: Visit (2019) 55' 00"

For Ljudbänken (the Sound Bench) and originally mounted at Fatbursparken, Södermalm, as a commission from Stockholm art and Audiorama, composed at EMS in Stockholm.

Visit (2019) is a four-channel electroacoustic work of fifty-five minutes, repeated continuously. The form is composed in five parts, and the material develops organically in sequences with units of five, eight, eleven, forty and fifty-five in an expanding structure of polyphonic lines. Fragments are combined kaleidoscopically; they appear, dissolve and disappear, recur in different shapes, interconnect in situations that slowly subside, reappear, change, fade away and disappear. Cyclical events can sometimes seem eternal, repetitively infinite, even if they are only temporary visits, momentarily short situations that soon disappear into history's fluid mass of events. Visit connects to the history of this particular place, Fatbursparken, where people's activities over thousands of years have developed and changed this location. Change will continue as new people visit this place.

Kim Hedås Visit is based on the history of Fatbursparken at Södermalm in Stockholm, and the people who have lived there for millennia. When the inland ice melted ten thousand years ago, a bay was formed in the then outer archipelago and through the land rise, the bay in the middle of the island became a large lake with fresh water and plenty of fish. Pollen analyzes indicate human presence here already three thousand years ago. The forests, meadows and beaches around the lake eventually become pastures and farms, with jetties and boats, farms, stables, windmills, workshops, ore farms, slaughterhouses, wood traders, marketplaces, breweries, rope mills, tile factories, dyeing plants, nurseries, weaving mills, theaters, taverns, health wells, pharmacies,, churches, poor houses, garbage dumps and palaces. The city grows, the orchestra plays at the beach edge for well-dressed café visitors, the garden association baths in the evening sun, the garbage is thrown into the lake which slams again and shrinks, mosquitoes spread malaria, trapped bears are trained to performances, the lake is ditched to give way to straight streets and when a railway station is to be built, the lake is finally filled again. The people who work and live here can no longer skate on the lake but the story continues; In the neighborhood, the old houses are demolished to give place for factories, schools, shops, cinemas, fire stations, hotels, concert halls, letterpresses, civic houses, car scraps, hospitals, garbage stations, subway and housing in arch with rounded park. The children grow up and the sausage factory is transformed into digital development. From the very beginning, through these changing centuries, people have passed by right here – day and night, during all seasons, with different errands, sometimes only on a short visit and sometimes every day throughout their lives. Right now, Fatbursparken is about to change again, railway tunnels have been blown under the island and the tracks are to be covered so that the park will tie together what has long been cut off, the new grows up and still underneath everything there are the beaches and the lake. The time layers exist simultaneously.





Ljudbänken will be stored in the Arctic World Archive. The Arctic World Archive will become home to world cultural treasures, among them Audiorama and Stockholm konst's sound art project Ljudbänken.
Kim Hedås is a composer, PhD, senior lecturer and researcher at the Royal College of Music in Stockholm (Kungliga Musikhögskolan, Stockholm). Her music has been performed by, among others, the Swedish Radio Symphony Orchestra, the Gothenburg Symphony Orchestra, the Symphony Orchestra of NorrlandsOperan, Gageego!, pëarls before swine experience, Kroumata, VOX, DalaSinfoniettan, and the Gothenburg Opera. She also works with electroacoustic music and collaborates often with other artists in theater, art and architecture. In recent years, her music has been performed internationally and also at Konserthuset in Stockholm, Göteborgs Konserthus, Moderna museet, Kulturhuset, Färgfabriken, the Architecture Biennale in Venice, Kivik Art Centre, Teater Galeasen and the Royal Dramatic Theatre in Stockholm. In 2013, Kim Hedås completed her PhD at the Faculty of Fine Arts, University of Gothenburg with the dissertation
Linjer. Musikens rörelser – komposition i förändring (Lines: Music moving – composition changing).
k
imhedas.se
Ljudbänken will be stored in the Arctic World Archive
The Arctic World Archive will become home to world cultural treasures, among them Audiorama and Stockholm konst's sound art project Ljudbänken.
https://www.stockholmkonst.se/aktuellt/ljudbanken-5/
https://www.stockholmkonst.se/aktuellt/ljudbanken-i-arctic-world-archive/
https://www.piql.com/publics-top-10-to-be-stored-in-the-arctic-world-archive/
https://www.audiorama.se/events/2019/ljudbanken-kim-hedas
NCS_Hypogean-City (2019)
Located between Lilla Salen and Nathan Milsteinsalen. Plays continuosly.
NCS_Hypogean Cities (2019) by Ludger Brümmer, Yannick Hofmann, Dan Wilcox, Tomasz Ciotucha is continuously performed on a daily basis between circa 11:00-19:00 in the Lower Foyer by the entrances to Nathan Milstein Salen and Lilla Salen.
Multi-room Sound Installation
ZKM | Hertz-Lab, 2019
NCS_Hypogean-City is a multi-room sound installation of spatialized electroacoustic miniatures. The miniatures are transitioned using an AI style transfer. Their textual characteristics and dramaturgical progressions are built upon the sonification of timeline and geological data of the Italian city of Matera – a unique place protected by the UNESCO as World Heritage, being one of the oldest cities in the world with distinctive cave-like dwellings carved out of limestone. This soft stone consists mainly of calcium carbonate, a chemical compound of the elements calcium, carbon, and oxygen. Both the symbolic and numerologicalic aspects of those elements Ca (20), C (6), O (8) play a decisive role in the compositional process.
Matera's unique setting is reflected in the entrance hall of the KMH through the dynamic placement of small-scale loudspeaker systems that stimulate the specific spatial acoustics of the venue.
The multi-room sound installation NCS_Hypogean-City was developed in 2019 for IN VITRØ - artificial sønification as part of the Interfaces Project, co-funded by the Creative Europe Programme of the European Union.
EXHIBITIONS

Zwischenraum (Interspace)
poster presentation, Julia Rommel, 2019
Zwischenraum (interspace) is based on an artistic exploration of an acoustic measurement of space. The work draws close connection between the cultural techniques of graphic notation and cartography.
To gain a more precise overview of her daily movement routine, Rommel recorded every distance with at least a duration of 3 minutes for a period of exactly one year, with precise details of the duration, starting, and end points of the movement and the means of transport. Although this documentation was not originally created for the purpose of analysis, it became the starting point for reflecting on what overcoming distance – the interspace – means to her.
The interspace actually describes a temporal-spatial interval, which has to be traversed by subway, train, car, or airplane, in order to get from A to B. Even though this is a kind of by-product, the space in between becomes a kind of state of mind, of contemplation and distraction. Rhythm is the permanent confirmation of continuity. The space in between contains neither the past nor the future, thus no development, but rather the standstill in the present of passive movement.
In my curiosity to understand this very inspiring spatial configuration, Rommel started to document cartographically the interspace. Those graphic notations are the base for sonification with the graphical sequencer IanniX.
Julia Jasmin Rommel
(*1979 in Mutlangen, Germany) studied visual communication and scenography in Berlin, Stockholm, and Zurich. Her work focuses on developing spatial concepts for contemporary music theater productions (Follies for Fontane, Brandenburg 2019; Match Cut Music Convention, Berlin 2017; Die Nachtigall, Berlin 2017; Into the Deep, Radialsystem Berlin 2017; Mockumentary Altus, Bremen 2014; Orlando UA Theater, Bielefeld 2013) as well as on scenography for classical opera productions (Dido & Aeneas, Cosi fan tutte, Acis & Galatea, Antwerp 2015/16; Kinderzauberflöte Berliner Philharmoniker, Baden-Baden 2013)
Another focus of her work is creating orientation systems for buildings and public spaces (Elbphilharmonie Hamburg 2010 for Integral Zürich, Löwenbräuareal Zürich 2010 for Integral Zürich) and also corporate design and cartography. Furthermore, she is participating in a PhD program at the Offenbach University of Art and Design, where she explores the phenomena of ubiquity and space constitution in the contex of information and communication technology.
EASTN-DC at KMH

KMH organisation team for the festival Between 2019


Bill Brunson, Henrik Frisk and Kim Hedås


with Mattias Petersson, Mattias Sköld, Marcus Wrangö, Monireh Shirani, Cecilia Österholm, Jesper Tullback, Erik Metall, Björn Allevad and Per Sjögren.
EASTN-DC Events 2017-2019
Royal College of Music in Stockholm (KMH)
The EASTN-DC project at KMH is centered in the electroacoustic music program of the Department of Composition, Conducting and Music Theory. Principal Creators are Kim Hedås, Henrik Frisk and William Brunson. In the following, we present our diverse activities with respect to EASTN-DC 's five Poles and central questions regarding digital creativity. We believe that the vision of EASTN-DC can exert a transformative effect on KMH. Thus, in addition to reaching out to wider audience through workshops, lectures and concerts, we have endeavoured to integrate our research and artistic activities into the fabric of KMH, to involve both students and faculty.
Touring
·
November 2017
Grenoble, France
·
June 2018
NOVARS, University of Manchester, UK
·
November 2018
Cité de la Musique, Romans, France
·
October 2019
Grenoble, France
Residence/Immersion
At the Royal College of Music in Stockholm, larger EASTN-DC projects are arranged twice per year in November and March. These highlight different aspects of
Five Poles
artistic research combined with a wider public outreach.
·
Spaces for Artistic Research
(March 2018)
·
Student project:
Ljudbänken c/o KMH I
(Summer 2018)
·
November Space
(November 2018)
·
Dubbelkonserter I-III
(March 2019)
·
Student project: Ljudbänken c/o KMH II
(Summer 2019)
Industry
· EASTN-DC at KMH has established contacts with several international companies, world-leading in technology for audio, for exchanges about technical and artistic audio practice.
Upcoming 2019
· Residencies – Fall 2019
o David Granström – composer, programmer
o Sten Sandell – composer, musician, PhD
· A museum in Stockholm has invited KMH to participate in the sound design of an exhibition. Production work will begin in the Fall 2019, and the two-year exhibition will open in October 2020. Six students from KMH will participate and contribute with new compositions.
·
Between 2019
is KMH's EASTN-DC festival, which will be arranged 8-13 November 2019. From the call for works —
The digital world conditions our real-world experiences. Digital creativity employs tools, manifested virtually, that allow us to do things that we can conceive of, but which are difficult to execute in the analog domain, or can only be accomplished by digital means.
The festival seeks to bring imagination to bear on media and materials. The festival is an attempt to probe the themes of spatialization, digital creativity and public access through artistic and scholarly explorations of music and sound. These issues will be explored through concerts, performances, installations, workshops, presentations and informal discussions. We anticipate that interdisciplinary projects will focus on interaction, integration, communication, and experience.
Given the rapid, emerging impact of artificial intelligence across a multitude of fields — be they artistic, social, technical or scientific, etc. — we have decided to dedicate a thematic strand to this pivotal issue.
Invited Keynote Speaker:
Prof. Georgina Born
, Oxford University.
Upcoming 2020
· Residencies – Spring 2020-Autumn 2021: Composers, musicians, researchers.
· Format Week – March 2020: Companies, specialized in art, science and technology, are invited by EASTN-DC to meet at KMH in March 2020 for a week focused on exploration of formats. Presentations, concerts, installations and workshops together with composers, musicians, researchers and students.
Student project: Ljudbänken c/o KMH
Ljudbänken c/o KMH is a special event within the ambulatory art project Ljudbänken (the Sound Bench), aimed to create sound art for public areas outdoors all around Stockholm. The art project, initiated in 2017, is run by Stockholm Art together with Audiorama and has collaborated with Swedish and international artists to produce specially composed music played through Ljudbänken in parks and on squares. The bench is made of metal and wood and has a built-in sound system with four speakers. The music from Ljudbänken blends with the city's own expression and creates new, magical sound rooms – open to all people passing by. During the summer, the Traffic Office is conducting an initiative called Levande Stockholm (Live Stockholm) with a variety of activities on temporary summer streets and summer squares. The aim is to make the city's public space more vibrant, create pleasant outdoor environments and an attractive city life.
Stockholm art contributes four exciting art events, one of which is the collaboration project between Stockholm art and the Royal College of Music where students compose new works that are played during the summer months.
In 2018, four new works were composed for Ljudbänken by Bachelor students Mattias Hållsten and Maria Lindström together with Master students Daniel M Karlsson and Fredrik Mathias Josefson from the education in Electroacoustic Composition at The Royal College of Music, Stockholm (KMH). Ljudbänken ℅ KMH 2018 was placed in the very center of the city at Gustav Adolfs Torg, in front of the Royal Opera.
In 2019, four new works were composed for Ljudbänken by Bachelor students Mikael Lindblad Ehnborg and Adele Marcia Kosman together with Master students Anna Björn and Diego Ratto from the education in Electroacoustic Composition at The Royal College of Music, Stockholm (KMH). Ljudbänken ℅ KMH 2019 was placed on Hässelby square in the 1950s suburb of Hässelby, a 35 minute subway journey west from Stockholm Central.
https://www.stockholmkonst.se/konsten/konstprojekt/levande-stockholm-ljudbanken/
https://www.stockholmkonst.se/konsten/konstprojekt/levande-stockholm-ljudbanken-co-kmh/
Ljudbänken c/o KMH 2018
1 June 1 – 10 August 2018
Gustav Adolfs Torg, Stockholm (in front of The Royal Opera.)
Program
Mattias Hållsten:
Tūla
(2018)
Maria Lindström:
The Inner Square
(2018)
Fredrik Mathias Josefson:
What Word Can I Say To Convince You That All My Happiness Is In Loving You?
(2018)
Ljudbänken c/o KMH 2019
13 June 13 – 5 September 2019
Hässelby torg . Stockholm (a suburb).
Program
Mikael Lindblad Ehnborg:
As the ground is giving way, we look for a place to land
(2019)
Adele Marcia Kosman:
For Dancemusic You'd Emit to Formless
(2019)
Anna Björn:
Bolmört (Hyoscyamus niger)
(2019)
Diego Ratto:
Intryck från Stockholm
(2019) (Original title:
Eindrücke Aus Stockholm
)
Dubbelkonserter: Orgel + ea
(Double concerts: Organ + ea)
20-22 March 2019
The Dubbelkonsert/Double Concert series is part of a new collaboration at KMH:
Organ + ea
. Newly composed works for organ and electroacoustic music were presented in two concert halls with dual immersive sound systems and a total of sixty speakers.
At Dubbelkonsert I, new works were performed by Magda Mayas, Sten Sandell, Johannes Landgren, Henrik Frisk and Kim Hedås for organ, piano and electroacoustic music.
At Dubbelkonsert II and III, ten new works for organ, voice and electroacoustic music have been composed by students in electroacoustic composition and performed by organ students.
Magda Mayas, Sten Sandell and Johannes Landgren were invited by EASTN-DC at KMH for concerts as well as workshops and seminars.
Dubbelkonsert I / Double Concert I
Kim Hedås:
Dense
(2017) electroacoustic music in 8 channels
Sten Sandell:
behind the piano
(2019) for piano
Henrik Frisk:
Locomotion
(2019) for sixty loudspeakers
Sten Sandell:
the language inside the organ
(2019) for organ and electronics
Magda Mayas:
Piano Mapping
(2019) för amplified piano, objects and spatialization
22 March 2019 at 12:30 – Nathan Milsteinsalen / Lilla Salen-Klangkupolen
Dubbelkonsert II / Double Concert II
Linus Hillborg:
Auguries
(2019) for organ and digital reverb system Anton Linnerhed, organ
Theodor Kentros:
Fractura
(2019) for organ and electronics
Fredrik Lundqvist, organ
Viktor Sandström:
hyperorgel/hype-organ
(2019) for
fixed media in ambisonics-binaural playback
Maria W Horn:
Konvektion
(2019) music for organ four hands and electronics
Anton Linnerhed and Patrick Lindblom, organ
22 March 2019 at 19:00 – Nathan Milsteinsalen / Lilla Salen-Klangkupolen
Dubbelkonsert III / Double Concert III
Brenda El Rayes:
Losing my mind
(2019) for organ and electronics
Elias Fergin, organ
Mikael Lindblad Ehnborg:
Drowning – Study I
(2019) for organ and electronics
Ludvig Käll, organ
Adele Marcia Kosman:
EMIT I
(2019) for organ and vocals
Elias Fergin, organ
Adele Marcia Kosman:
II
(2019) for loudspeakers
Em Silén:
skarri orre
(2019)
Mattias Hållsten:
For organ and VCS-3
(2019)
Spaces for artistic research
17-21 March 2018
Spaces for artistic research
was a five-day event that combined concerts, performances, a symposium and a public PhD defense of Kent Olofsson's thesis
Composing the performance
. The ambition was to explore the ways in which research at KMH plays out, both within our campus, and in relation to the surrounding society. The hot topics and general spirit of EASTN-DC shaped the activities.
An open workshop in hörspiel composition attracted non-musicians and the general public. In this intense two-day course, the participants were divided up in two groups that each produced a short piece. The workshop was produced in collaboration with Audiorama, a concert space in Stockholm focusing on contemporary sound art, hörspiel and electroacoustic music. The workshop was also an introduction to Olofsson's dissertation, and the participants were invited to take part in the performances and the defense following the workshop.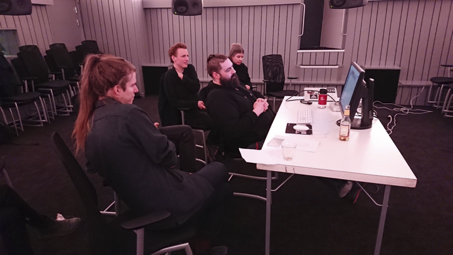 In two concerts a wide range of Swedish electroacoustic music was presented in our special purpose hall Lilla Salen with its 29.4-speaker array, as well as in our large concert hall Kungasalen (5.1). We also presented two concerts with works by Kent Olofsson, the theatre performance
Death to the Dogs of the Welfare State
(by Teatr Weimar) and
Hamlet: Exit G host
, a hörspiel adapted for Lilla Salen.
November Space
19–22 November 2018
November Space 2018
was an international symposium focused on spatialised music and immersive sound. The center of this three-day event is KMH's immersive 45.4 sound system
Klangkupolen
.
The symposium brought students and teachers together from The Norwegian Academy of Music (Oslo), The Institute of Electronic Music and Acoustics at University of Music and Performing Arts Graz and The Royal College of Music in Stockholm (KMH).
Visiting faculty Prof. Natasha Barrett, Prof. Gerhard Eckel and Daniel Mayer joined KMH counterparts Prof. William Brunson, Dr. Henrik Frisk and Dr. Kim Hedås, and Thomas Lund, Senior Technologist from Genelec, for workshops and lectures on ambisonics, composing for headphones, spatial techniques in SuperCollider as well as aesthetic and listening perspectives.
Three public concerts in Klangkupolen featuring electroacoustic works by students and faculty were presented.