SUNDAY 10 NOV 14:00-17:00
PRESENTATIONS X 5
NATHAN MILSTEINSALEN


Marcin Pietruszewski, David Berezan, William Brunson, Tadej Droljc, Mattias Sköld
Marcin Pietruczewski:
The New Pulsar Generator (nuPG). Disassembling the Artefact.
The focus of this talk is the New Pulsar Generator (nuPG), a digital sound synthesis program that converges twentieth-century computer music and sound art, theory of psychoacoustics, digital instrument design and digital culture and that, through the range of authors, inventors, technical objects and concepts it recruits, weaves together a complex assemblage of 'historical ecologies'. Rather than focusing solely on the technicalities of program's design and its underlying sound synthesis paradigm I propose an integrative perspective which draws upon contemporary epistemology and software studies, and which views computer programs as artefacts - complex assemblages of things and composition of components, which are continuously rearranged and reassembled in their specific modes of appearance throughout history.
This talk aims to display how engaging with a digital instrument – particular qualities and propensities of its design, functional and conceptual encapsulation of sound and composition theories – contributes to a mediated model of creative music practice. Such an approach fits within a broader perspective viewing technology and its objects beyond their merely functional and instrumental roles, but as mediators of human experiences and practices.
Throughout, key themes of this talk are composition with historically inherited materials, computer program as an artifact and integrative epistemology.
Tadej Droljc:
Composing with isomorphic audiovisual gestalts
Isomorphic audiovisual gestalts can be understood as a synergetic audiovisual whole on the level of perception. Sound and image in my gestalts support each other rather than go against one another. What is common to all isomorphic audiovisual gestalts is what I call a certain degree of spatio-temporal congruency and a certain degree of cognitive complementation between sound and image. Flexibility of these parameters open up a wide range of possible relationships between sound and image that can be exploited as a compositional space.
Tadej Droljc (b. 1981) is a Slovenian interdisciplinary artist and creative coder who works in the field of electronic music, computer-generated audiovisual composition and other forms of intermedia art. His recent work is focusing at what he calls a pluralistic approach to real-time audiovisual composition, where various hierarchies between sound and image co-exist inside individual compositions.
For his recent work Tadej was awarded the Lumen Prize Student Award, Dennis Smalley scholarship in electroacoustic music and he won the Most Promising Video Artist prize at Madatac. A work from his collaborative project Synspecies won the Edigma Semibreve award and was shortlisted for the Lumen Prize in category moving image.
Tadej performed and exhibited his works at the festivals or galleries around the globe such as Ars Electronica, L.E.V. Festival, Brighton Digital Festival, Marché du Film – Festival de Cannes, Semibreve, Galerija Kapelica, Madatac or Athens Digital Arts Festival among others. With project Synspecies he also became a part of the ENCAC – European Network for Contemporary AV Creation. Currently, he is collaborating with Ars Electronica's Futurelab on the project Immersify.
He is a doctoral researcher in audiovisual composition at the Centre for Research in New Music (CeReNeM, UK) under the mentorship of dr. Alexander Harker and prof. Pierre Alexandre Tremblay (with support of scholarship from Slovenian Ministry of Culture). Tadej's PhD research is about audiovisual composition based on non-hierarchical real-time relationships between music, sound and physically-based 3D animation. At the University of Huddersfield he also teaches music modules Computer Composition and Desktop Music Production.
David Berezan: Sound Runner
Sound Runner
is an interdisciplinary collaborative endeavour that aims, through sound and music, to enhance the motivation for, and experience of, physical activity, exercise and running. It explores the influences of particular characteristics of sound on physical performance, and creates new sounds and music that arise out of runner experience. The current pilot study is developing interdisciplinary research methodologies between electroacoustic music composition and sport and exercise psychology in order to investigate bi-directional and interactive relationships between physical performance, sound creation and music listening while running. An underlying objective of the research is to encourage wider participation in sport and activity through the participant motivation that arises through these relationships. The project involves a creative practice-based researcher in electroacoustic music composition (Prof David Berezan, University of Manchester) and a researcher in sports science and psychology (Prof Costas Karageorghis, Brunel University).
After completing a BA in History (1988) at the University of Calgary, a Diploma in Composition (1996) at Grant MacEwan College (Edmonton) and an MMus in Composition (2000) at the University of Calgary,
David Berezan
moved to the UK and completed a PhD in Electroacoustic Composition (2003) at the University of Birmingham (UK). In 2012 he was appointed Professor in Electroacoustic Music Composition at The University of Manchester (UK), where he has acted, since 2003, as Director of the Electroacoustic Music Studios and MANTIS (Manchester Theatre in Sound).
Since 2000 he has primarily composed acousmatic music, though he has also composed and performed solo and ensemble live-electronics works. He is a practitioner and proponent of sound diffusion performance and the interpretation of fixed-media work.
David Berezan has been awarded in the Klang (France, 2015), Música Viva (Portugal, 2012), CIMESP (Brazil, 2003, '05), Bourges (France, 2002), Luigi Russolo (Italy, 2002), Espace du son (Belgium, 2002), EAR (Hungary, 2001), and JTTP (Canada, 2000) competitions. In addition to frequent concert performances of his work, his music has been broadcasted on the CBC(Canadian Broadcasting Corporation) as well as the BBC (British Broadcasting Corporation).
He has worked in residence in the studios of the University of Calgary (Canada, 2011), Université de Montréal (Québec, 2011), CMMAS (Mexico, 2011), EMS (Sweden, 2011, '12, '18), VICC (Sweden, 2011, '12, '14), The Banff Centre of the Arts (Canada, 2000, '07), ZKM's Institut für Musik und Akustik (Germany, 2007), Ina-GRM (France, 2007), IMEB (France, 2007), ESB(Switzerland, 2005), and Tamagawa University (Japan, 2007).
William Brunson:
Inside Pandora's Box: A box, a remote control and a finger pointing at the moon
It is astounding—for me, at least—to consider the twenty-eight year age of
Inside Pandora's Box
. This presentation revisits the work in light of the ethos of the early 1990's, the subjects and methods employed then and the temper of our times today.
William Brunson (1953) is professor of electroacoustic music and studio director at The Royal College of Music in Stockholm (KMH). He is best known for his electroacoustic music, which has been widely performed. Awards include the Bourges International Electroacoustic Music Awards, Luigi Russolo Foundation, National Endowment for the Arts, The emsPrize and Alpha Award (VICC). His music has been released on several cds including the portrait Movies for Your Ears.
Brunson has lived in Sweden since 1980. He acted as artistic director at Fylkingen (1982-1987) and has worked for the Swedish Radio, Swedish Television and Royal Swedish Opera, among others. He is currently researching intermedial approaches to narrative in electroacoustic music at De Montfort University.
Mattias Sköld:
The Visual Representation of Timbre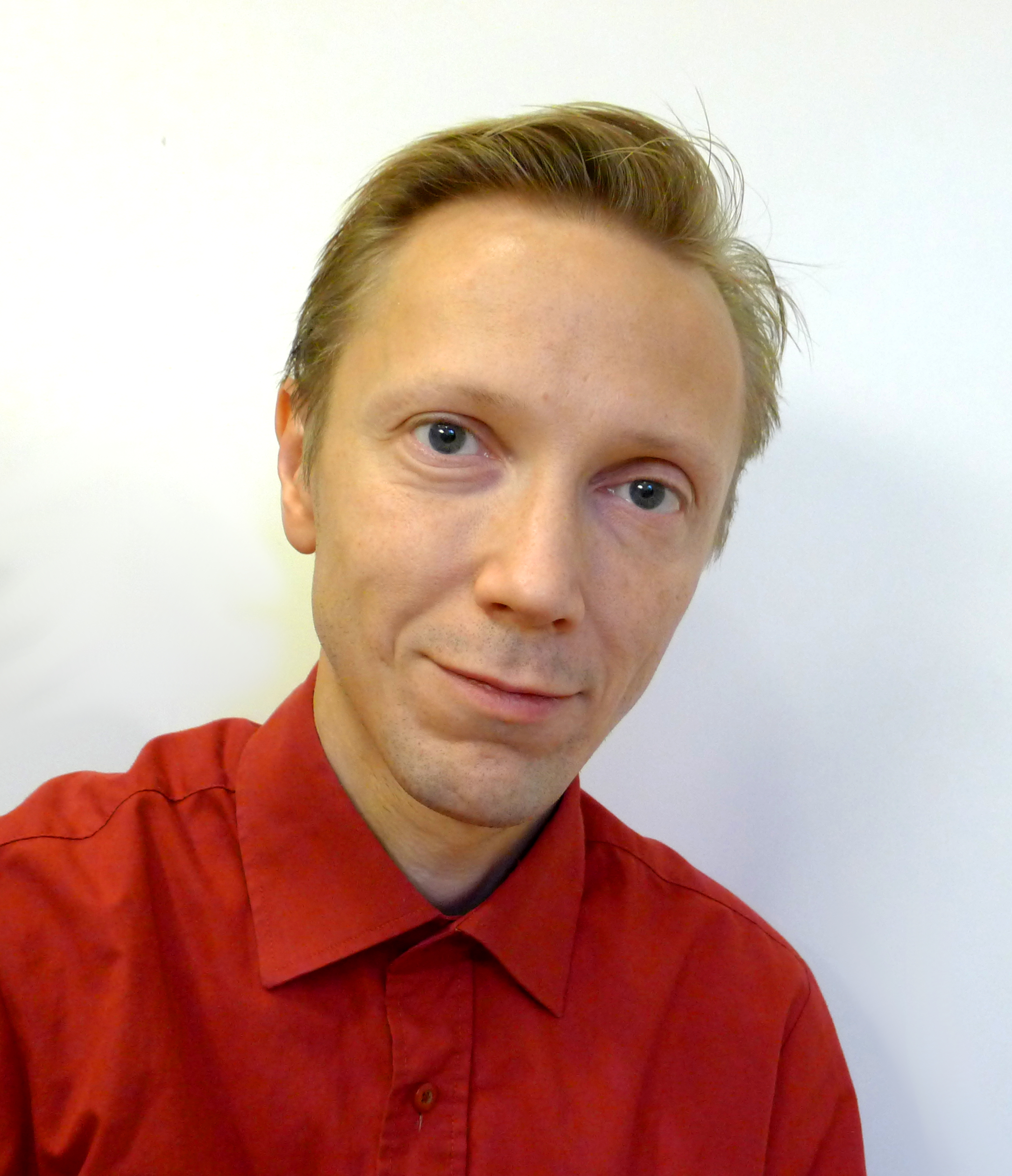 In my ongoing research exploring the possibilities of representing and notating pitch-based and sound-based music for composition, I needed to look beyond the scope of traditional electroacoustic music theory to see how to properly and possibly deal with timbre when visually representing music regardless of sound source.