TUESDAY 12 NOV 14:00-17:00
PRESENTATIONS X 5
NATHAN MILSTEINSALEN
Eva Bojner-Horwitz, Davide Ficco/Marco Barberis, Gianluca Verlingieri/Davide Ficco, Claude Cadoz, Susanne Rosenberg
Eva Bojner Horwitz:
Listening to music – various audiences
That music listening can have strong emotional effects is widely accepted, and it is also known that the effects depend on several individual and environmental factors. There are several elements of the musical experience that influence the emotional response of the listener, of which I will try to focus on four that have been explored in the literature and which relate to a newly published study.
Dr Eva Bojner Horwitz, Professor of Music and Health at the Royal College of Music in Stockholm and researcher at the Department of Clinical Neuroscience Karolinska Institute (KI). She is specialized in psychosomatic medicine and the creative arts; co-founder of the Center for Social Sustainability (CSS), KI and anchored in interdisciplinary research, focusing on performance evaluations with musicians and other projects.
Davide Ficco/Marco Barberis:
THE EXTENDED GUITAR: transducers, drums, springs and vibrating panels.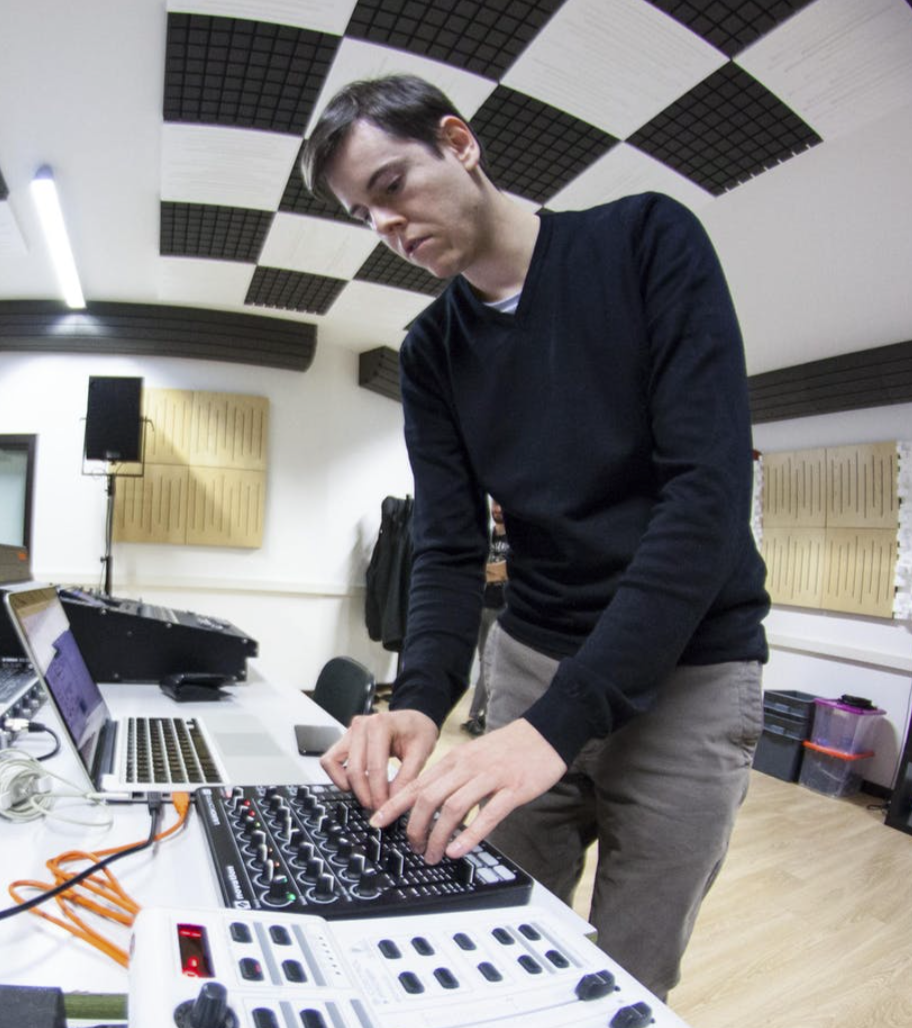 Marco Barberis, Davide Ficco
We will present an hybrid musical instrument developed by Davide Ficco: a classical guitar that, equipped with piezoelectric hexaphonic and stereophonic microphones, controls two distinct stereo amplification lines: the first which - by means of vibrating transducers - solicits two long springs, each connected to a Persian
daf
(flat and wide drum); the second line which, also by means of a stereophonic amplification, drives two vibrating transducers.
The described configuration allows to generate sounds that spread simultaneously with respect to the natural sound of the instrument: the two dafs producing a natural delay with respect to the emission of the guitar and the circular panels conveying sounds that can also be processed electronically (as Marco Barberis experimentally did), with the specific characteristic of spreading the sound as a not point-like source, but extended and as a dipole, enveloping the performer in the center of the devices. It enriches this instrument, which I define as
extended guitar
.
The presentation will show and discuss possibilities, limits and practical behavior of the instrument, as also emerged during an "hand on" workshop held in Grenoble in October 2019 for the local EASTN-DC Festival, and will briefly describe the practical application of the instrument in Davide Ficco's piece proposed for a Between 2019 concert.
Gianluca Verlingieri/Davide Ficco:
RESTORING AND RE-COMPOSING THE PAST:
a new version (2018) of Azio Corghi's
Consonancias y Redobles electronic tape (1973),
based on original materials thought lost.
Consonancias y Redobles
(1973) by Azio Corghi is a piece for live classical guitar that can be performed with or without its fixed media part. The original tape with the electronics seems to have been lost during the past years, so that all the performances of this piece took place without electronics or without the original electronics. Things changed with the recent finding of original materials of the electronic part on tape. Composer Gianluca Verlingieri, a former student of Corghi, has been asked by Corghi itself to restore the original tape but also to expand and re-compose it, creating a new version (proposed for a Between 2019 concert with Davide Ficco as guitarist). The presentation will focus on the technical and aesthetical matters related to this operatin.
Davide Ficco was born in Turin in 1962. He received a diploma with honors in 1982 at the Conservatory of Alessandria with Guido Margaria, and conducted advanced studies with John Williams, José Tomàs, Betho Davezac, Jakob Lindbert, Oscar Ghiglia and Alain Meunier, obtaining, from the latter, a grant from the CEE and two Merit diplomas from the Chigiana Accademia of Siena (1982-1993). In 1989 he received the title of Guitar Performer at the Royal College of Music in London, and in 1985 completed the course in Music Education at the Turin Conservatory. Many times awarded in national and international competitions as soloist or in chamber groups, (1978-83), D.F. has collaborated with the Contemporary Music Group and the Symphonic Orchestras of the R.A.I. of Turin (1982-2011) and Milan (1990-1993), with the Regio Theater of Turin, the Laboratorio Lirico of Alessandria, the Orchestra Sinfonica Italiana and the Filarmonica '900. He performs primarily modern and contemporary music and has made radio and television recordings for the R.A.I. including many world premiere performances. He has recorded for the labels Naxos, Stradivarius, Tactus, Amadeus, GuitArt, Moisycos and Oliphant with music of the 1900's. As a composer he has written music primarily for guitar, in part published by Gendai Guitar in Tokyo and Carisch (Milano).
Gianluca Verlingieri – "
Talent exceptionnel" according to Radio France, Italian
Composer Gianluca Verlingieri has gained international recognition with performances, commissions and projects held at venues such as INA-GRM in Paris, Italian Academy at Columbia University in New York City, Renzo Piano's Parco della Musica in Rome, the new Florence's Opera House, Festival International d'Art Lyrique de Aix en Provence, Musica y Escena Festival in Mexico City, Staatsoper Berlin, ARD German Radio Days Festival at ZKM Karlsruhe and many other stages in Italy, France, Germany, Spain, England, Scotland, Switzerland, Denmark, Belgium, Greece, Mexico, USA, Brazil, New Zealand and Australia.
Verlingieri's compositions have been awarded in numerous competitions and call for scores in Europe and North America and released on compact disc by the labels EMA Records, Limen Music, the Swedish BIS Records and others. New cd releases are expected soon, from EMA Records again and from the German label NEOS, including the première recording of Verlingieri's string quartet written for the 81th birthday of Sir Peter Maxwell Davies, who has been among the important meetings during Verlingieri's artistic training, together with world renowned composers like Kaija Saariaho, Louis De Pablo, Peter Eötvös, Alvin Curran, Yan Maresz and, in Italy, Alberto Colla, Azio Corghi, Fabio Vacchi, Ivan Fedele and Luca Francesconi. Honors and awards for his activity came from Cambridge University Press (20th Century Music Award), Atlantic Center for the Arts (associate composer in residence), MidAmerican Center for Contemporary Music (guest composer) Washington Composers Forum, Memphis Chamber Music Festival (guest composer), Italian Composers Forum (composer in residence), Tempo Reale Florence (composer in residence), Institute for Psychoacoustics and Electronic Music, Belgium (composer in residence), and many others. Among the past projects stand out a multimedia opera with three different stages commissioned by Maggio Musicale Fiorentino for the 750th anniversary of Dante Alighieri's birth, a new version of John Cage's Fontana Mix performed all over the world and several semi-scenic contemporary works for baroque and renaissance instruments. and several semi-scenic contemporary works for baroque and renaissance instruments. at Tomaskirche Leipzig. Since 2011 he's Professor of Electroacoustic Composition at Ghedini State Conservatory of Cuneo, Northern Italy, where he also leads the New Technologies and Musical Languages Department (METS). He's invited to held seminars and talks about his music in Italian and foreign institutions, like, among the others, Cesma Lugano (Switzerland) and the Franz Liszt Academy in Budapest. He's been assistant composer of Elliott Sharp at the New Music Project in San Marino.
Susanne Rosenberg:
Folk Song Lab - improvising folk songs
This is a presentation of an on-going project funded by the Swedish Research Council called "Folk Song Lab - deconstruction, improvisation and flow",
The purpose of the project is to develop and explore new models for collective improvisation in traditional folk singing. The starting point is the ethnological performance-perspective, meaning that a folk song takes form only in the performance, viewing the song as a cognitive frame. In this explorative study, this perspective is researched using features of traditional folk song in new contexts.The project also aims at observing how the design of models for improvisation affects the participant experience of psychological flow, both on individual and on group level.
The goal of the project is to establish new artistic expressions for folk song, thus revitalizing and renewing folk singing of today by means of collective improvisation and to shed light on how flow and artistic expression in a collective context areinterrelated.
Claude Cadoz:
Multisensory and Interactive Simulation of Physical Objects for Musical Creation
Application to Helios and Qutezalcoatl, musical and visual artworks for the Helicanthe Platform of the ACROE
This presentation, in a first part, summarizes the scientific and technological concepts that underlie the paradigm of "multisensory and interactive simulation of physical objects" introduced and developed by ACROE, and their applications on musical creation through the Helicanthe platform.
The conference will start with a short state of the art in sciences and technics in sound and acoustical digital synthesis.
We will fisrt introduce the physics-based formalism CORDIS-ANIMA. This formalism is a multisensory components-based computer design formalism, which includes haptic interaction. We will explain the principles of force feedback haptic transducters allowing to manipulate physical models with tactile feelings. We will continue by introducing a new way of acoustical diffusion, composed of 24 loudspeakers placed on a 3D sphere, allowing the auditor to be totally spatially immersed within the sound.
These four technical components – interactive design of physical objects, their real-time simulation, their haptic manipulation and the acoustical and visual 3D displays - are integrated within a platform called «Helicanthe platform ». We will illustrate all these techics anc concepts with examples of physical models designed with CORDIS-ANIMA, real-time simulation and gestural interaction.